India is a country with colourful cuisine. Many tourists are drawn to it by its vibrant culture and enticing cuisine. Goa, which serves as a major international and domestic tourist destination, has a strong demand for traditional foods that have been there for generations and continue to tempt residents. When you travel, finding good food becomes a priority, and if you have the chance to eat a genuine local specialty, your happiness will soar instantly. Here are a few authentic Goan dishes that you simply must sample while admiring the lovely Goan horizon beneath the calm sky and exquisitely painted Goan panorama. With a dedicated staff, we at Zain Travels can be a great help for your vacation.
1. Fish Recedo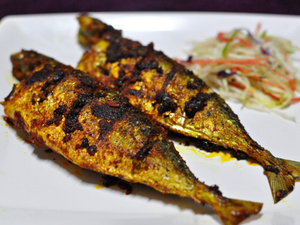 A very well-liked Goan meal is the Fish Recedo. Recedo, which is Portuguese for "stuffed in," is usually made with pomfret or mackerel and is filled with a crimson sauce made by blending together red chilli paste, some dry spices, ginger-garlic paste, turmeric, and vinegar or lemon juice. A genuine source of temptation occurs when fish that has been marinated is later fried over low heat, creating a fragrant blanket that tempts the senses. The customary accompaniment to Fish Recedo is a plate of deliciously fried onion rings.
2. Bebinca
Bebinca, also known as "Bebik," is a typical ethnic Goan dessert that is greatly complemented at Christmas. Its chewy texture makes it a simple dish to enjoy with a dash of ethnic flavour. Bebinca preparation is particularly important since the taste of the dessert is ultimately determined by how the four ingredients, such as all-purpose flour, eggs, coconut milk, sugar, or goan jaggery, are added and combined. The dessert is then topped with shredded coconut. This traditional Goan delicacy adds flavour and illumination to Christian weddings and feasts.
3.Chicken Xacuti
This is a delectable gravy made by combining turmeric with a variety of aromatic dry spices, including pepper, nutmeg, cinnamon, cloves, and more. Before being sautéed with coconut-toasted sauce and poppy seeds, the spices are completely roasted. You will be perplexed by the taste and aroma of this Goan legacy. Freshly chopped beef or lamb meat is used to cook Xacuti, also described as Chacuti in Portuguese.
4. Chicken Cafreal
If you enjoy light greenish gravy, Chicken Cafreal is a must-try to entice your taste buds with authentic Goan cuisine. A staple cuisine of African slaves, chicken cafeteria has its roots in the Portuguese colonies. Lime juice, green chilies, fresh coriander leaves, garlic, ginger, cinnamon, pepper, mace, and clove powder are all necessary for its creation.
5. Fish Ambotik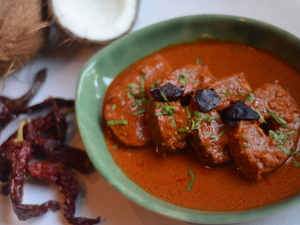 Prepared by grinding red chillies, ginger, garlic, some coriander leaves, coriander seeds, cumin seeds, onion and a half cup of water to make the paste a thick delicious sauce. The flavour of tamarind gives a kickstart to a remarkable experience teasing your tastebuds. Mackerel is the most commonly used fish to blend with the Ambotik which is the thick sauce.
6. Goan Nevri
As soon as you've finished the spicy gravy courses, you can indulge in a sweet dessert. You're astounded by the combination of roasted pulses like dal etc., Goan jaggery, and grated coconut. The sweetness is quickly drenched in an all-purpose flour-based thick roti that balances the over-sweetener limit.
Your health will also influence how comfortable and content you are, so eating wisely can help you have a good holiday. Visiting Goa soon, and looking for travel vehicle, Zain Travels should be your choice. Self-drive cars are the simplest and easiest way of renting car for you trip.