7 Places for Sparkling Nightlife in Goa
Goa's nightlife comes alive as the stars fill the sky and woozy neon lights groove to the beat of the music. After sunset, Goa comes alive with great music and delectable food, with every shack and club flooded with party animals. There is something for everyone to do at night here, whether it's crazy partying with people from different countries, trying your luck at casinos, or chilling at beachside shacks along the breezy waves. Without a doubt, Goa's nightlife adds a memorable touch to the trip. Here is a list of the best places to visit at night in Goa.
Arambol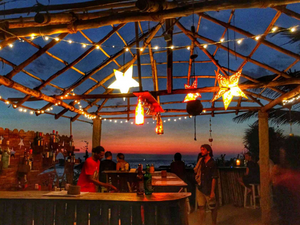 If you're looking for Arambol beach nightlife, you might find it at venues like the Cocoloco Club to the north of the beach and ASH to the south. You can also try yourself at Loekie Cafe with travelling musicians from all over the world. This shack serves hearty local fare and frequently hosts jam nights, which transform the space into a live orchestra and flash mob. Every day, there is an Arambol beach party that takes place, with a drum circle gathering to play music, dance, and celebrate Goa's beautiful sunset.
Calangute
Calangute is Goa's main party destination. If you want to experience the dazzling nightlife while tapping your toes to the beat of the music, you should definitely visit Calangute. There are numerous nightclubs to try out, such as Cohiba, Cafe Mambo, OWL, The White Goa, Kamaki, etc., that will give you a thrilling kick of music and booze to keep you tapping the floor all night. A few of the bars also close at 10 p.m. In particular, Tito's at the Baga end of the beach is a notable exception, staying open until after midnight in the off-season and until the early hours of the morning in late December and January.
Vagator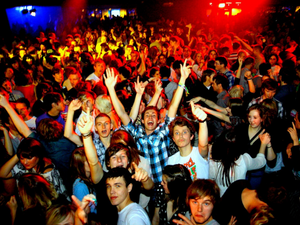 Night reveals a completely different side of the peaceful and quiet Vagator beach. Going all wild once the sun says goodbye, the place comes alive with dance and music and drinks. During the peak season, some nightclubs and shacks, such as Nine Bar, Hilltop, and Primrose, make the crowd groove the whole night and entertain them with various types of trance music from DJs all over the world. These, as well as other venues such as Mezcal Restaurant, Mango Tree Bar & Restaurant, and Disco Valley, are open until early mornings and are prime locations to enjoy and dance to the rhythms all night.
Palolem
Palolem Beach is an ideal location for spending a night dancing to music. This location is also well-known for silent EDM parties, where dancers can pick their favourite songs and listen to music through wireless headphones while they dance to their own tunes. Try out Neptune Point at Palolem Beach for the silent party, which takes place every Saturday between 9:00 PM and 4:00 AM. Night parties at Palolem Beach are memorable because of the pleasant vibes, people dancing all over, and the enchanting view of the beach.
Anjuna
The nightlife in Goa's Anjuna beach is certainly deserving of the moniker "paradise for night partygoers."Anjuna Beach's nightlife is unrivaled, with world-class trance parties and DJ nights. Club Cabana is the place to experience the best Anjuna beach nightlife. Curlies Shack on Anjuna Beach transforms into a breezy, lively party locale. Grab a bottle of your favourite beverage and dance until the early hours of the morning. If you are around Anjuna, you must surely head to Shiva Valley to have the wildest night of your life; it is known as the trance haven. Every other day of the week, it's just a shack, but every Tuesday night, it transforms into a trippy place. It has an entrancing aura and has held parties that last until 5 a.m.
Colva beach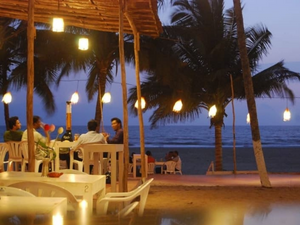 Some of the most elevated, woozy parties with a fantastic feel are thrown across numerous beaches throughout Goa on special nights—full moon nights. Colva Beach hosts fantastic all-night full-moon parties and is one of the most popular South Goa nightlife destinations. They are usually brimming with energy and people of various nationalities; food and drinks flow freely, and music blasts all night. Because this location attracts a large crowd, it is best not to bring anything valuable. However, the energy level is high, as is the crowd; this is without a doubt one of the best parties in Goa.
Baga Goa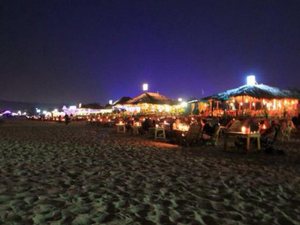 Nightlife at Baga Goa is ranked as one of the top nightlife spots in Goa, Tito's Lane on Baga Beach, is graded as the best place to experience the dazzling nightlife, which includes a notable collection of seafront resorts, clubs, cafes, and bars known for their music atmosphere and a diverse menu of food and refreshments. The entire crowd comes alive with crowds of party animals filling the clubs and spending their nights dancing away to great music. Café Mambos, Club Tito's Goa, and Club Cubana are some of the most popular spots to groove our souls till the moon decides to set. If you want to have an exciting vacation in Goa, the vibrant nightlife in Baga Beach is the place to be!
Are you planning a trip to Goa? Don't wait any longer because the nightlife in Goa will keep you awake until the sun rises! Goa's nightlife offers a variety of dynamic choices for your party and ecstatic needs. All you have to do is decide what your heart wants, and the thrilling side of Goa will take care of it. So come enjoy the craziest nightlife of Goa.