Best places for pre-wedding shoots in goa.
A pre-wedding shoot is all the rage these days, and it's a wonderful way to capture your love in beautiful photographs that you can treasure forever.
When it comes to pre-wedding shoots, we are always picky about everything, from the dresses to the location and the photographer, since it is a once-in-a-lifetime event that we will remember forever. When it comes to location, Goa will always be at the top of the list of enticing places.
Goa is a romantic and love-filled destination. Some of the best beaches in the world reside in Goa and serve as a picture-perfect backdrop for photography. There are also some spots covered in greenery and colourful lanes that will add an aesthetic touch.
Here are some locations in Goa that can provide a scenic backdrop for a pre-nuptial photoshoot!
Bat Island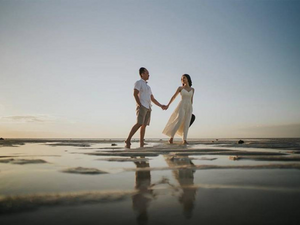 A star-studded photoshoot in Goa is incomplete without a beach. Having those tranquil blue waters as a backdrop for your photos is truly magical. You can capture the perfect picture of a lifetime right from the lovely moments to the fun on the beach. So go ahead, find the perfect lighting, and pose away on Goa's picturesque beaches. The sunset sky in Goa is well-known. You can visit the Grande Islands as well as Bat Island.
Fontainhas
If you are looking for vibrant and colourful backdrops in Goa, you should go to Fontainhas, the Latin Quarters, where the entire colony is made up of bright dwellings. Fontainhas is surrounded by houses painted in blue, yellow, and a variety of other colours that exude a strong Portuguese vibe. A photoshoot in Fontainhas, Goa, will add a vintage romantic flavour to your love. This is one of Goa's best pre-wedding shoot locations.
Basilica of Bom Jesus
Because of the importance of the Basilica of Bom Jesus, it is a very special place for all Christians. However, the well-kept buildings and architecture of this church for a good photo shoot. So fall in love with the well-kept gardens and white architecture and get photographed in the most unique way possible!
Fort Cabo De Rama
The next pre-wedding shoot location in Goa is for those who want to escape somewhere away from the chaotic city life. Getting yourself captured in an historical fort can really be your thing! If you're planning to shoot in Goa, don't forget to stop by Fort Cabo De Rama for this perfect wedding shoot. Another benefit of this place is that you can admire mountains and breezy beaches from a top view. Isn't it romantic?
Agonda Beach
Agonda beaches are scattered with shacks, and the Arabian Sea beautifully reaches the shore. The beach is one of Goa's unpopulated ones, with few tourists, so you can capture your own little happy moments without interference. It is well-known for being a popular tourist destination due to the turtle nesting sites. Agonda beach is the ideal location for a horizon click that captures the depth of your relationship.
Parra Road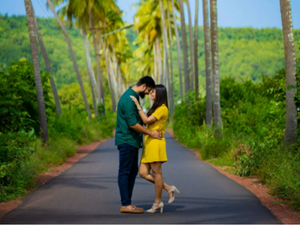 Lush palm trees line the sides of the narrow, picturesque Parra road in Goa. It offers a pleasant ambience. The view from this place is spectacular for photography. This road, which has been featured in many films, is located off the main highway and provides breathtaking views of fields on both sides. Parra Road is definitely worth it if you're looking for a peaceful, beautiful location for a pre-wedding photoshoot.
We hope that our list of pre wedding shoot locations in Goa will make it easier for you to choose a few beautiful wedding locations. If you enjoyed our list, please share it with your significant other so that you can surprise him or her with these beautiful destinations.