Confused about where to go on Christmas? Want to have unlimited Christmas fun? Willing to experience a unique Christmas tradition that too in your own country? If yes, plan Christmas in Goa and be a part of unforgettable celebrations and festivities. Goa is the best destination in India and the most exciting place for tourists that are looking to celebrate Christmas away from home. The best way to celebrate Christmas in Goa is to attend a midnight mass in church. There are several famous churches in India, with two of the most iconic being 'The Basilica of Bom Jesus' and the Immaculate Conception Church in Goa. With hymns and Carols all around you, you can make the most of the Christmas season. Midnight Mass normally starts at 10 p.m.
To make the most of Christmas in Goa, watch the fireworks all around you; the entire place converts into an enchanting show that is a visual delight! The Old Goa region, which holds the majority of Goa's churches, experiences a burst of light, with the crazy crowd and vibrant cracker show, Anjuna Beach offers a plethora of colours and light as the entire beach area goes partying until dawn. It's one of the most significant things to witness during Goa's Christmas celebration.
Take a river cruise with your friends or family. Christmas is an excellent time to visit Goa. A river cruise on the Mandovi River allows you to experience a magical Christmas evening like never before. An evening spent cruising on the waters during Goa's Christmas celebrations is truly memorable. You can plan a romantic candlelight dinner with your partner.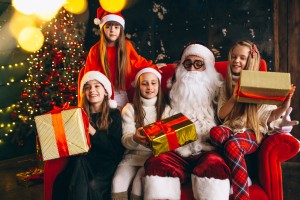 There are other delectable Goan dishes that are popular with both tourists and locals, but during Christmas, one can enjoy a classic Christmas dinner at any famous beach shack or restaurant. This restaurant serves delectable dishes like pork sorpotel, grilled seafood, and roast turkey. Don't forget to try 'Bebinca,' Goa's famous dessert. The homemade chocolate cakes are also popular and one of the Christmas special treats in Goa! Another traditional dish in the offering is coloured Marzipan for Christmas.
Places you should check out during christmas:
Old Goa appears to be the most beautiful of them all. The lost charm of Old Goa makes it a holiday favourite. The Church of St. Francis of Assisi is the main attraction, with visitors from all over the world flocking to the church and queuing to see the pope's mortal remains. Other notable structures in Old Goa include the domed Church of St. Cajetan, which was inspired by St. Peter's in Rome, and Se Cathedral
Check out the various beach shacks on Goa's beaches; they just need a reason to ramp up and dance. Christmas Eve in Goa is undeniably an excellent time to host! Whatever famous beach you visit on this day, you'll find yourself in the midst of a crazy crowd tapping their feet to loud music, beach shacks lit up in colours and lights, and the smell of food on a grill. If you're a party animal, you'd go insane seeing the amount of fun on the beach shacks in Goa during Christmas.
If you prefer to eat rather than party, Goa has something special in store for you as well! Plenty of places in Goa host special Christmas dinner buffets in attractive pricing where you can dine to your heart's content on exquisite Goan delicacies. Bomra's, J & A's Little Italy, Casa Sarita, Jalsa, Alfama, Fiesta, Thalassa, La Plage, A Reverie, and Mum's Kitchen are among the restaurants where you can spoil yourself.
There are numerous night dances held throughout Goa on Christmas Eve. Goa's dance floor is packed with revelers. The nightlife in Goa is vibrant and exciting, and it gets even better on Christmas Eve and Christmas Day. You can also enjoy the festivities and fun in Goa's nightlife beginning one week before Christmas. The exciting vibes, great camaraderie, and dazzling decorations are what make Christmas special. Trance parties, techno parties, and rave parties in places like Vagator and Anjuna are a must-attend on special occasions in Goa.
Christmas is a spectacular festival in Goa, with lights and decorations adorning everywhere. As the air fills with the aroma of scented candles during the season, Christmas carols are sung in every nook and cranny. If you want to celebrate Christmas in India, there is no better place to be than Goa.
Christmas in Goa can be spent in a variety of ways, including partying on its beaches, indulging in sumptuous meals, or simply taking the time to explore the heart and soul of the state with your family. So, what are you waiting for? Pack your bags and experience Christmas like never before.